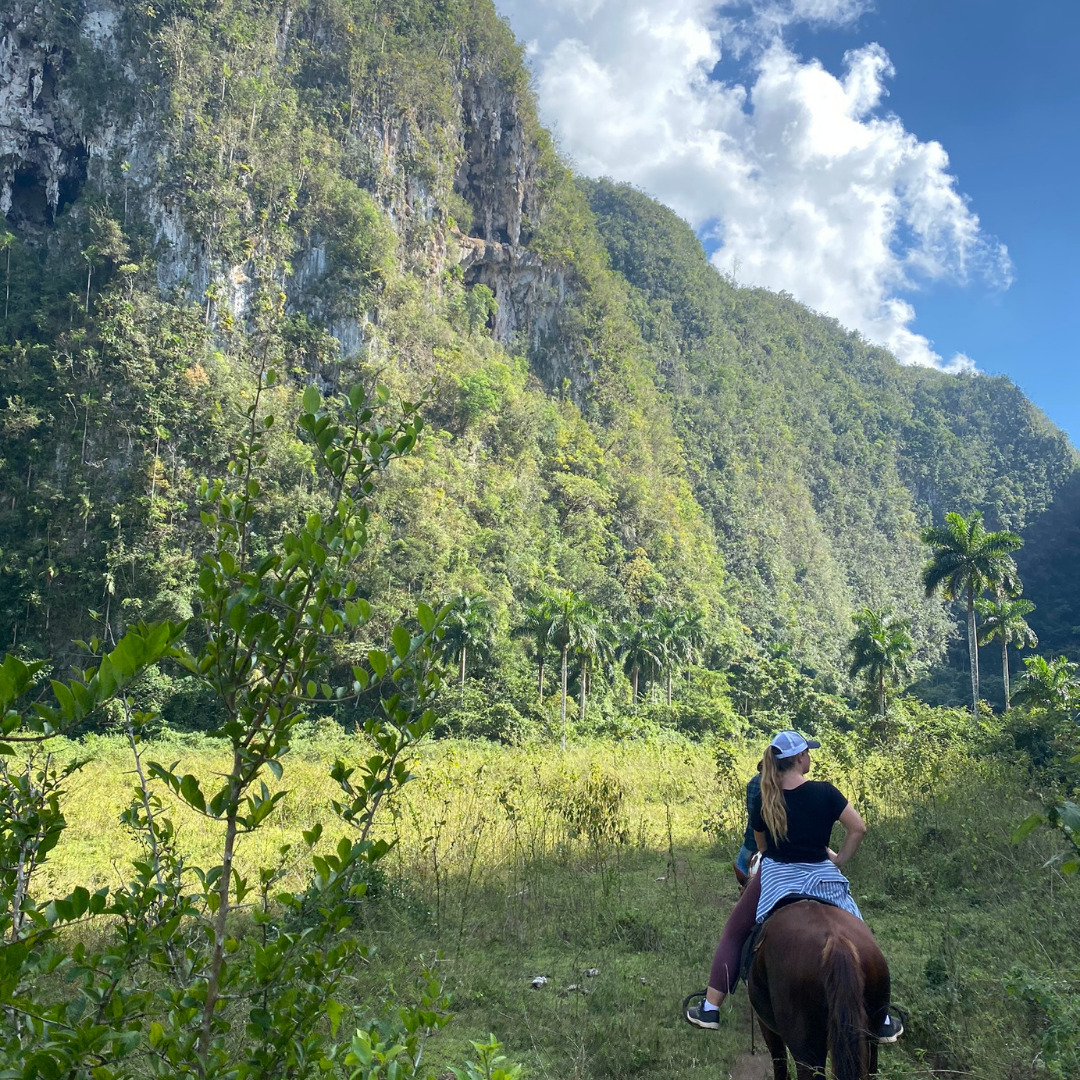 What To Do In Viñales, Cuba – with a twist
You've probably read my other post on 'what to do in Vinales Cuba – the essentials' and are wondering what this one is all about. Right? 
Well, this one is for the adventurous traveller who's looking for a little more than just the basic tourist attraction. 
Do you want to hang with the locals instead of other tourists?
Looking to discover the 'real' Cuba… but seriously though?
Want to play dominoes with the tobacco farmers and sleep under the stars in the middle of the Cuban countryside? 
If yes, we're like minded and I'm here to help. Read on. 
1)Extended horse riding adventure
Every Gill, Tom and Harry comes to Viñales and does a horse riding excursion into the valleys. And yes – it's amazing and I'm not knocking it! But, if you're looking to do it with a little twist, book to do an extended tour on the horses and go a little deeper into the valley. 
There are some stunning places that aren't on the usual 'routes'. My husband takes his guests deep into the heart of Palmarito to find the river bed. He is a professional at getting fresh coconuts down from the trees, adding rum to the water inside, and sipping it whilst we ride up the river stream. It's incredibly unique –  you genuinely won't pass another tourist, just some local farmers, and the views are mesmerizing. 
2) Get invited to a Cuban pig roast fiesta
I will never forget the first time Ronnie took me to a local 'Cuban fiesta'. It was so raw. It was beyond an authenticity level that I could've hoped for, and my memories of it will never fade. 
Cubans have a real 'knees-up' on few occasions: birthdays and New Years Eve. It just so happens that their family's are so extensive, there is a birthday of a prima every weekend. 
Included in these parties are a pig roast, that they will have been rearing and preparing for some time. The men spend the entire morning slaughtering it and preparing the meat. It couldn't be more organic if it tried. The women spend the morning preparing the rice, beans and salad. 
Early afternoon the guests start arriving and the rum starts flowing. The dominoes tables are soon put out and the music is blasting. 
When the feast is ready, silence falls as bellys are filled. 
In our house, the bonfire is now lit and we watch the sun set over the valleys with our resident musician serenading us with traditional songs on his guitar. His talent is immeasurable. 
The night continues, the rum flows, and dancing under the stars continues until we drop.
This 'activity' isn't usually found on the 'what to do in Vinales Cuba' blogs, and for a reason: You can't find this kind of stuff on your own. You need to know the right people, and that's why I'm ya girl! 
3) Tour of Viñales - with a twist
In my other blog post I told you to do a 'tour of Viñales' if you had a morning to kill. 
My personal preference is to swap the car for something a little more… traditional. A horse and cart. 
It takes a little longer, but tootling along the streets and surrounding area of Viñales in a horse and cart is a unique and genuinely fun thing to do. You have more time to take in the sights, take photos, greet the locals and be out in the open. 
He'll still take you to all the places on the list (see here), but you'll do it in a little more style. 
If you're interested, we'd always end our tours with a full lunch spread at my husband's family house in the countryside. You get a taste of real life in the countryside – they live completely outside of tourism, unlike the plethora of 'casa particulares' in the town – and his mum is an incredible chef. Not only can you enjoy her farm-to-table traditional cooking, but all of your money goes straight into her pocket and honestly, it's more than she'd ever thought she'd earn just cooking a meal. 
Ok, ok, I'm really not selling this as a hobby. I'm personally not a fan, and I know it's an incredibly polemic topic so don't start getting mad at me.
But… it's a huge part of the culture in Cuba whether you like it or not. Many people are interested in learning about this side of the culture and it's not something your average tourist ever gets to see. 
I can't promise there'll be a (legal) cock-fight when you visit. But at the very least, it might be of interest to visit the places where they look after the cockerels and have some conversations with the locals about what they do/why they like it. 
From a cultural perspective, it's interesting. For documenting, photographing, writing articles, it's incredibly interesting. It's the epitome of 'raw and authentic' and it could be the most unique thing you do in Cuba. 
4) Camp in the tobacco fields of Cuba
One of the most memorable experiences I've had in Cuba was sleeping in the middle of the UNESCO National Park of Viñales, surrounded by endless tobacco plantations and a sky of infinite stars. 
Technically this sort of thing isn't 'allowed', but Cuba is Cuba because of its lenience in bending the rules. Without going into detail, if you want a crazy adventure involving tents, hammocks, rum and a whole empty national park to yourself, lemme know. 
Did you find this post interesting or useful? I'd love for you to support me and share it.
Pin and save this blog post for later